So the 2nd day of Polka Dot Plum's Grand Opening is underway- lots of events happening- I've already participated in two! My LO's from those challenges are below.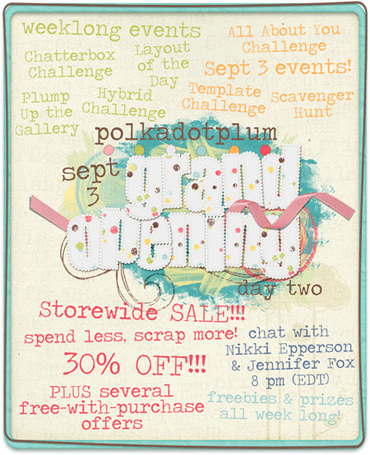 This is going to sound a bit sappy and silly- but I feel SO at home at Polka Dot Plum. They have some of the sweetest, most supportive members- and I can already see a huge difference in my creativity levels- I'm producing things that I really adore! I can almost feel my creativity blossoming a bit. Yesterday evening in chat I showed a few folks some papers and doodles that I've done for a kit that I was just going to use for my pictures- but now I'm seriously thinking you may see it here as a freebie in a month or two. Coming to PDP was the right thing to do, it's such a great fit for me and I love it there!!
Okay now for some LO's :)
Beach Baby
- I did this one for my first Speed Scrap ever- I still can't believe I'd never done one after all this time, but it was FUN! Suzy did a great job... and this was my result!
Made using Lullaby Girl by our host- Suzy Q Scraps
A Girl's Best Friend
- this one was for the Template Challenge today!
Made using:
Papers from Prismatic Backs Vol 1 by Suzy Q
Papers, Buttons, String, and Alpha from Lullaby Girl by Suzy Q
Heart String (recolored) by Pink Peacock Designs from Fresh Start Collab Kit
Me
for the All About Me Challenge today
Made using: I need a Life by Skittles and Scraps
and Crafty Bits from Suzy Q Scraps