So here's my big news- today my design shoppe at
Polkadot Plum
officially opens! I'm over the moon happy about this.
PDP
has been my home, and my digi-family since before the website even officially opened! I was one of the first SugarPlums, and it feels SO good to be coming home!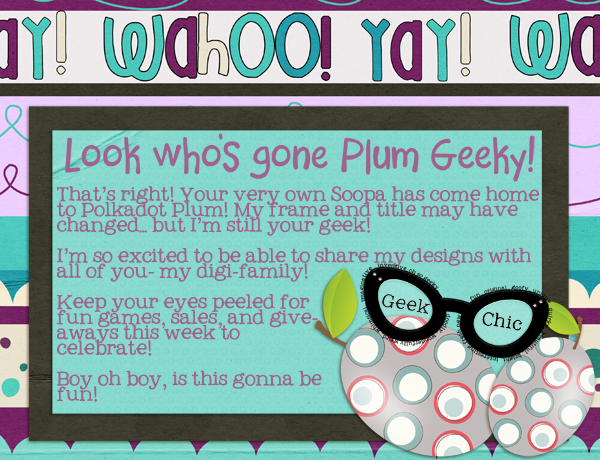 So in honor of my wonderful news, my store at
Polkadot Plum
is on sale! Get 25% off this week only!
Also, you have a few chances to win! Check out the PDP forums for my Geek Confessionals Contest- come confess your Geekiest moments and the one that makes me laugh the hardest wins a $5.00 gift card to my
Polkadot Plum
store.
Alix, my fantastic Lead Geek, is also hosting a
template challenge on the PDP forum
. Not only do you get this awesome template for free:
but everyone who enters the challenge and submits a layout using this template gets entered to win a $10.00 gift card to my store- if you use any Geek Chic Designs in the layout you submit, you get a second entry in the drawing. Winners will be announced on 2/10/10. How fun is that??!
You can get to the challenge here:
http://www.polkadotplum.com/forum/showthread.php?t=2221
Also keep your eyes out for more festivities and fun giveaways around Digiland! Tell your friends ;) Bring a friend, bring your mom, your dog, your sister, your college roomate! ;)