Hello my loyal and fantastic Geek Fans!
Today is my feature day over at the GingerScraps Party- and do I ever have some goodies for you!
I'll be running a game of Geek Bingo today starting at 2pm EST- what is Geek Bingo you ask?
Geek Bingo- how to play

1. Grab this card (you can just right click and 'Save As'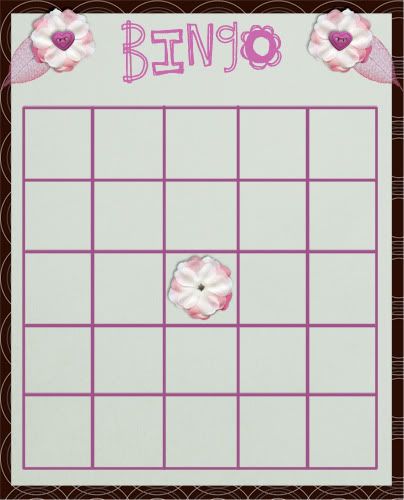 2. Once you've opened up the card in the editing software of your choice, you need to fill it in with some of the following words (remember, you get one free space under the flower!)
And yes, I'm going to make you scrap for this ;)
1. Geek
2. Woot
3. Scrap
4. Amazing
5. Unique
6. Quirky
7. Fun
8. Nerdtastic
9. Noob
10. Weird
11. Original
12. Doodly
13. Felty
14. Puns
15. Fan
16. Bright
17. Gamer
18. Whimsical
19. Eclectic
20. Dynamic
21. Template
22. Hybrid
23. Purple
24. Pink
25. Grey
26. 365
27. Silver
28. Flowers
29. Buttons
30. Creative
3. Once you've completed your card- save a copy, then PM me a shot of your card with the words clear so I can double check when BINGO is called. You MUST have your card in before the first word is called- I will start calling BINGO words at 2:10pm EST and keep calling words every 10 minutes until we get our BINGO.
4. You must get a line (horizontally, vertically, or diagonally) to get BINGO- the FIRST person to call BINGO will be declared the winner once I take a peek at the card you sent me. So not only do you have to win, but you have to be fast ;)
Once we're done, I'll PM each player a little goodie from me just for playing along!
Here is the link to the BINGO game:
http://forums.gingerscraps.net/showthread.php?p=60839#post60839
and today only you can get my new 365 kit for free before it is released in stores!
Just head on over and use the code:
GeekFeature365


Edited to add: Also, I was feeling generous this morning, all my kits in the GingerScraps store are 50% off today only! Head on over there! ;)